-Ryan Rubin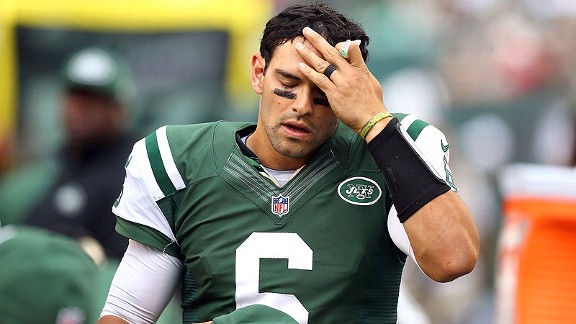 Has Mark Sanchez played his final game for Rex Ryan and the Jets?
Let me make this clear... drafting Mark Sanchez with the 5th overall pick in the 2009 NFL draft was no mistake. However, how the Jets developed Sanchez is the main reason why he has struggled. Sanchez had a impressive junior year at USC, and anybody who know anything about college football knows you can't get a more elite college football program than USC. As the Trojans' quarterbacks have been college studs, they tend not to do so well in the pros. Besides Carson Palmer, who has had a good career, all three of the other 21st century Trojans' starting quarterbacks have had lousy careers. Matt Leinart was a a stud in college, having won a heisman, two Archie Griffin awards, two quarterback of the year awards, and two national championships. His success in the NFL was quite the opposite. So far, he has been on three teams, and although should have started for the Cardinals two years ago in favor of Derek Anderson, has made no NFL progress at all. John David Booty was signed by three professional teams over three years, and didn't take a single snap. Now, Mark Sanchez did lead the Jets in his first two seasons to two AFC championships. But his stats have been just flat out awful.
This year he has thrown the second most interceptions, has the worst passer rating of any NFL starting quarterback, and is a turnover machine. Sanchez didn't have to start his NFL career this way, but the Jets brought him into it. Immediately after the draft, the Jets just gave Sanchez the starting job, with no real competition, guidance, and push at all. His backup quarterback was Mark Brunell, and let's face it, there was no shot of Brunell starting over Sanchez. Sanchez was pampered during his 4 seasons, and at the beginning was blessed with having a lights out defense, and several offensive weapons. When the Jets lost depth, and started to heavily rely on Sanchez, he was doomed for failure. Sanchez has had no push, nothing standing behind his back to make him work harder. The Jets brought Sanchez's first real competition this year by bringing in the former Denver Broncos quarterback, who took one of the league's worst teams to the second round of the playoffs, while also creating one of the largest football movements of all time. But the Jets failed us yet again by not even giving Tim Tebow a single shot. From the get-go the Jets named Sanchez their starter, and never even gave Tebow an opportunity to advance from his second-string role to starter. Tebow stepped on the field this season for just a little more than 70 snaps, and when his time came to start over Sanchez in week 16 against the San Diego Chargers, the Jets instead went with third-string quarterback Greg McElroy. To make matters worse for Tebow, reports across the media came out that the Jets will be releasing Tebow after the 2013 season. Talk about a wasted trade! Here is what the Jets need to do: if the Jets aren't going to start Tebow, which they aren't, release him and let him play somewhere else. And along with the news of the Jets releasing Tebow, reports also came out that the Jets will be exploring trades for Mark Sanchez. The truth is, nobody is taking Mark Sanchez.
Besides that fact that he has had a terrible off-season, the fourth-year quarterback is due $8.25 million in guaranteed money. They can trade him, but nobody is willing to take on that cash, except for possibly the Arizona Cardinals. And if the Jets were to release him, they would still have to pay him over $17 million dollars. The Jets need to keep Sanchez on their bench, and let him develop under a veteran quarterback. News has flown out that the Jets are interested in the Philadelphia Eagles quarterback Michael Vick. But truthfully, as fun and exciting as Vick is, Vick just is not the right fit for the Jets. The right fit for the Jets is San Francisco's now backup quarterback, and former number 1 overall pick, Alex Smith. Just last season, Smith led the 49ers to one of the best records in the NFL, and the NFC conference championship. Smith is a mature, eager quarterback who would fit perfectly with what the Jets hope to accomplish. Smith can move if he has to, but has good decision making, and a great arm that would work perfectly with the Jets receiving core. Alex Smith is the ideal Jets quarterback, and there best option. Some other quarterbacks who should be noted if the Jets cannot get Smith can be Matt Flynn of Seattle and possibly even the other USC quarterback I mentioned before, Carson Palmer. And for those fans who aren't sure about Palmer, just check his stats this year. He has actually had a pretty good year, and could give some great guidance to Sanchez, while also giving the Jets some push.
The Jets need to figure out their quarterback situation as soon as possible, and maybe when the Jets get a new general manager, he will take the steps I mentioned before, and build a new, experienced Jets offense that will have Jets fans no longer screaming their lungs out.