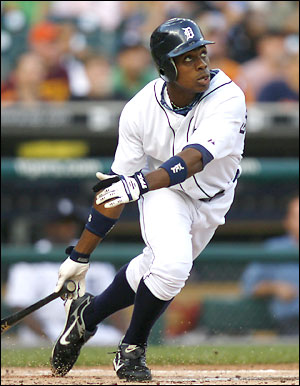 From
MLB Trade Rumors
:
The Yankees receive center fielder Curtis Granderson, who turns 29 in March. Granderson is owed $5.5MM in 2010, $8.25MM in '11, and $10MM in '12, with a $13MM club option/$2MM buyout for '13. That's $25.75MM guaranteed over the next three years. Melky Cabrera could now be expendable for the Yankees, and the Cubs are one possible suitor.

The Diamondbacks receive a pair of starting pitchers: Edwin Jackson and Ian Kennedy. Jackson, 26, is under team control for '10 and '11 and is owed an arbitration raise on this year's $2.2MM salary. Kennedy, 25 this month, missed most of the '09 season due to surgery to remove an aneurysm near his shoulder. As far as I can tell he is under team control for another six seasons. This is the second year in a row Jackson has been traded at the Winter Meetings.

The Tigers receive four players: starter Max Scherzer, relievers Daniel Schlereth and Phil Coke, and center fielder Austin Jackson. The Tigers get five years of Scherzer, six of Schlereth, five of Coke, and six of Jackson, potentially 22 years of control in total. Scherzer, 25, and Jackson, 23 in February, are probably considered the prizes of the haul.
I wasn't a huge proponent of the Yankees getting Curtis Granderson. As a leadoff hitter, his 30 homeruns are nice, but his low on-base percentage is troubling. But all things considered, this isn't a horrible move.
New York now has filled the gaping hole in left field without Johnny Damon. Granderson can play centerfield and Melky Cabrera can play left (or vice versa). The move, for the most part, replaces Damon's production offensively, and creates a huge upgrade in defense.
Also, the Yanks won't be forced to give out a big contract to a leftfielder, whether that be Damon (asking for 4 years) or Matt Holliday (asking for 8 years, $180 million). Granderson's contract isn't close to those numbers and allows Brian Cashman to uphold his desire for a team with a budget -- albeit a loose one.
Along with the payroll goes the character and demeanor the Yankees want to run with. The team has changed its appearance to a professional yet casual facade. Granderson fits the bill. He's a high energy guy, plays hard every day, and is active in the community. He's been an international ambassador for the MLB and is always in the running for the Roberto Clemente Award for charity. The award was taken home by another Yankee, Derek Jeter.
New York didn't lose much in terms of players either. The biggest loss is Phil Coke, who did a good job as a setup man this past year. But like any Sabermetrician will tell you, relievers are easy to find, so Coke can be replaced.
Then it's Austin Jackson, the prospect we've been hearing about forever. The Yanks were in a bind this year because they had to call him up. He's at his peak in Triple-A, and isn't getting any younger. While he's a great talent, I don't think Joe Girardi would have wanted Jackson as the 4th outfielder with Brett Gardner as an everyday starter. So be happy for Austin Jackson. He'll get an opportunity to play in Detroit (and will probably kill the Yankees).
Then Ian Kennedy, who showed some promise but never lived up to the hype. OK...
That's one spot filled, and a few more to go. Starting pitching must be next on the itinerary in Indianapolis.
--Max Caster