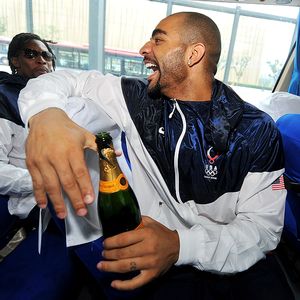 From
the Desert News
:
Chicago, Miami, New York, Detroit and now New Jersey have been most prominently mentioned as possible destinations for Boozer ever since he decided late last month to opt in for the final season and last $12.65 million on his current six-year, $68-million contract with the Jazz.

...The New York Daily News, meanwhile, reported that while "a deal with the Knicks is possible," it also is "complicated" because restricted free agent forward and possible trade piece David Lee is a base-year compensation player.The contracts of base-year compensation players basically are valued at half for calculating trade value, often making them difficult to deal.
If New York does get Carlos Boozer, the big question becomes whether he will be signed to a long-term deal or will the Knicks let his $12 million expire and free up space for next summer.
Boozer is indeed a top player in the NBA, but the uncertainty surrounding his health and durability still lingers. He's one of those players who is normally attached to the phrase "when healthy."
On top of that, "The Booze Cruise" and LeBron James apparently don't get along. I would safely assume that Boozer's presence on the team would deter LeBron from coming to New York. He would be more comfortable and happy with Chris Bosh or David Lee in the frontcourt.
So I'd expect Donnie Walsh to take the money and run to the "Summer of LeBron" if he snagged Carlos Boozer.
As for the New Jersey Nets, their situation is similar. I have a sneaking suspicion that Jay-Z and LeBreezy have already spoken about a long-term pow-wow in the Garden State -- which could possibly turn into Brooklyn.
Once again, would James accept Boozer? Probably not.
Plus, what do the Nets have to give up? There is an overflow of guard-forwards since the Vince Carter trade and the draft. I would guess Chris Douglas-Roberts would be a main piece to any Boozer trade. CDR plus Rafer Alston and Tony Battie -- both expiring contracts -- would equal the $12 million needed to complete the deal.
As a big proponent of CDR and a big opponent of Boozer, I would think long and hard about doing that trade.
Now the other thing about Carlos Boozer is that if he's healthy through 09-10, then he could draw free agents other than LeBron, namely Dwyane Wade. Just something to ponder...
--Max Caster