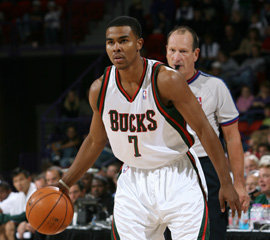 From
Gery Woelful's Twitter
:
LVegas I hear Knicks covet Ramon Sessions, expected 2 call Bucks soon about sign and trade. Otherwise prepared 2 use mid-level. Yes, Knicks love Sessions
This would be a trade involving David Lee. Milwaukee lost their starting power forward after Charlie Villanueva left for Detroit. I like Sessions but this deal isn't right for the Knicks. Not because I don't want D. Lee to leave. But because it looks like New York has a long-term point guard in Toney Douglas.
Watch T.D. in the Summer League games. He's a stud.
Regardless, Sessions alone doesn't equal David Lee's value. Bruce Bowen, Amir Johnson or Kurt Thomas should come back in that deal. All have expiring contracts.
--Max Caster